Dynam T-28 Trojan Red V2 1270mm (50 inch) Wingspan PNP RED RC airplane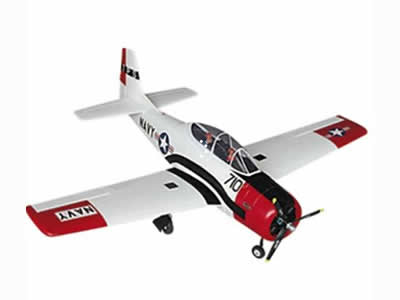 Dynam T-28 Trojan Red V2 1270mm (50 inch) Wingspan PNP RED RC airplane
Special price: [ US$175.00 ]
Dynam T-28 Trojan Red V2 1270mm (50 inch) Wingspan PNP RED RC airplane
1. 3715A-KV890 Brushless Outrunner Motor was pre-installed inside.
2. 6 Channel Radio
3. 6 Channel Receiver
if you want to know wholesale discount price,please contact us by e-mail.
Note:
If your shipment is deliveyellow to a remote area,this charge will be added to your shipping cost.Checking your area is a remote area or is not a remote area on the website:http://remoteareas.dhl.com/jsp/first.jsp
Dynam T-28 Trojan Red V2 1270mm (50 inch) Wingspan PNP RED RC airplane Specifications:
Dynam T-28 Trojan Red V2 1270mm (50 inch) Wingspan PNP RED RC airplane
This is the new and improved version (V2) of the popular Dynam T-28 Trojan. This new version now includes a Tomcat Skylord 30 Amp ESC with XT60 connector, pre-installed flaps and pre-installed flap servos. The North American Aviation T-28 Trojan was a piston-engined military trainer aircraft used by the United States Air Force and United States Navy beginning in the 1950s. Besides its use as a trainer, the T-28 was successfully employed as a Counter-insurgency (COIN) aircraft, primarily during the Vietnam War.
Take to the skies with one of Dynam's warbird trainer offerings, the T-28 Trojan PNP! Includes servoless electronic retractable landing gear. All that is needed is your 6 channel radio, 6 channel receiver and 3 Cell 11.1V 2200 mAh LiPo Battery, and she's ready to take to the skies!
While this plane is not quite as fast as some of the other Dynam planes, pilots are rewarded with far longer than average flight times which is where this plane really shines. We see flight times of 10 minutes regularly and have stretched flight times up to 15 minutes with a fresh LiPo pack and little use of full throttle.
FEATURES:
Tomcat Skylord 30 Amp ESCs with XT60 connector

,Made in China Dynam Model

Flaps and flap servos are now pre-installed and fully operational

Realistic scale features including US Navy paint scheme, hand painted pilot figures and molded panel lines

Servoless electronic retractable landing gear

Powerful BM3715A-KV890

Brushless Outrunner motor
Scale 3-blade propeller
INCLUDES:
Dynam T-28 Trojan Red 1270mm (50 inch) Wingspan - Receiver Ready
ESC with XT60 connector, servos, motor and electronic retractable landing gear come pre-installed for your convenience
Decal set
REQUIRES:
6 Channel Radio - Select a minimum 6 channel radio
6 Channel Receiver - Select a minimum 6 channel receiver
3 Cell 11.1V 2200 mAh LiPo Battery with XT60 connector
3 Cell Compatible Battery Charger - Select a minimum 3 cell (3S) charger
PRODUCT SPECIFICATIONS:
| | |
| --- | --- |
| Wingspan | 1270mm / 50in |
| Length | 1000mm / 39.3in |
| Flying Weight | 1350g / 47.6oz |
| CG (Center of Gravity) | 70 - 75mm from the leading edge at the wing root |
| Power System | 3715A-KV890 Brushless Outrunner Motor |
| Electronic Speed Control | 30A Brushless with XT60 connector |
| Propeller / EDF | 3-Blade Prop |
| Servos | 4x 9g standard |
| Landing Gear | Retractable |
| Required Battery | 3S 11.1V 2200mAh 20C LiPo with XT60 connector (required) |
| Required Radio | 6 Channel (required) |
| Ailerons | Yes |
| Elevator | Yes |
| Rudder | Yes |
| Flaps | Yes |
| Lights | No |
| Hinge Type | Foam |
| Material | EPO Foam |
| Skill Level | Intermediate |
| Build Time | 2-3 Hours |
| Recommended Environment | Outdoor |