Dynam A-10 Thunderbolt II V2 Green 64mm EDF Jet - PNP RC airplane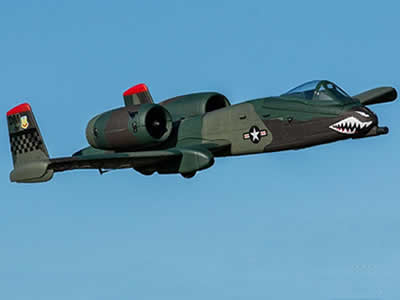 Dynam A-10 Thunderbolt II V2 Green 64mm EDF Jet - PNP RC airplane
Special price: [ US$176.00 ]
Dynam A-10 Thunderbolt II V2 Green 64mm EDF Jet - PNP RC airplane
1.BM2815D-KV3600X Twin EDF motors was installed inside
2. 5 Channel Radio
3. 5 Channel Receiver
if you want to know wholesale discount price,please contact us by e-mail.
Note:
If your shipment is deliveyellow to a remote area,this charge will be added to your shipping cost.Checking your area is a remote area or is not a remote area on the website:http://remoteareas.dhl.com/jsp/first.jsp
Dynam A-10 Thunderbolt II V2 Green 64mm EDF Jet - PNP RC Airplane Specifications:
The A-10 Thunderbolt II is an American twin-engine, straight wing jet aircraft developed by Fairchild-Republic in the early 1970s. It is the only United States Air Force production aircraft designed solely for close air support, including attacking tanks, armored vehicles, and other ground targets with limited air defenses. The A-10 was designed around the 30 mm GAU-8 Avenger rotary cannon that is its primary armament. The A-10's airframe was designed for durability, with measures such as 1,200 pounds (540 kg) of titanium armor to protect the cockpit and aircraft systems, enabling it to absorb a significant amount of damage and continue flying. The A-10A single-seat variant was the only version built, though one A-10A was converted to an A-10B twin-seat version. In 2005, a program was begun to upgrade remaining A-10A aircraft to the A-10C configuration.
We are happy to bring the Dynam A-10 Thunderbolt II to customers bringing yet more warbirds from a manufacturer known for finding that rare blend of economy and quality.
FEATURES:
Dynam Model officially in China
Realistic scale features including camo livery, hand painted pilot figure, gun turrets, and molded panel lines
Servoless electronic retractable landing gear
Powerful BM2815D-KV3600X Twin EDF motors and 64mm electronic ducted fan units
INCLUDES:
Dynam A-10 Thunderbolt II 64mm EDF Jet - Receiver Ready
Skylord 40A ESCs with XT60 connector, servos, motor and electronic retractable landing gear come pre-installed for your convenience
Decal set
REQUIRES:
5 Channel Radio - Select a minimum 5 channel radio
5 Channel Receiver - Select a minimum 5 channel receiver
3 Cell 11.1V 2200 mAh LiPo Battery with XT60 connector -
3 Cell Compatible Battery Charger - Select a minimum 3 cell (3S) charger
PRODUCT SPECIFICATIONS:
| | |
| --- | --- |
| Wingspan | 1080mm / 42.51in |
| Length | 995mm / 39.17in |
| Flying Weight | 1000g / 35.27oz |
| CG (Center of Gravity) | 70-75mm from the leading edge of the wing at the root |
| Power System | BM2815D-KV3600X Twin EDF motors and 64mm electronic ducted fan units |
| Electronic Speed Control | 2x 40A Brushless with XT60 connector |
| Propeller / EDF | EDF |
| Servos | 4x 9g standard |
| Landing Gear | Retractable |
| Required Battery | 3S 11.1V 2200mAh 25C LiPo with XT60 connector (required) |
| Required Radio | 5 Channel (required) |
| Ailerons | Yes |
| Elevator | Yes |
| Rudder | No |
| Flaps | No |
| Lights | No |
| Hinge Type | Foam |
| Material | EPO Foam |
| Skill Level | Intermediate |
| Build Time | 2-3 Hours |
| Recommended Environment | Outdoor |