Dynam F6F Hellcat V2 1270mm (50 inch) Wingspan - PNP RC airplane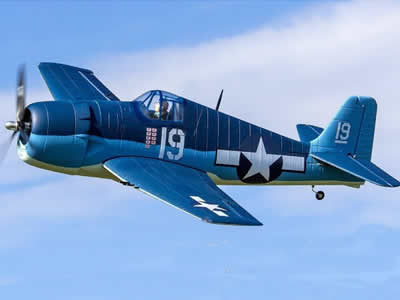 Dynam F6F Hellcat V2 1270mm (50 inch) Wingspan - PNP RC airplane
Special price: [ US$175.00 ]
Dynam F6F Hellcat V2 1270mm (50 inch) Wingspan - PNP RC airplane
1.BM3720A-KV500 Brushless Outrunner motor was installed inside
2. 5 Channel Radio
3. 5 Channel Receiver
if you want to know wholesale discount price,please contact us by e-mail.
Note:
If your shipment is deliveyellow to a remote area,this charge will be added to your shipping cost.Checking your area is a remote area or is not a remote area on the website:http://remoteareas.dhl.com/jsp/first.jsp
Dynam F6F Hellcat V2 1270mm (50 inch) Wingspan - PNP RC airplane Specifications:
This is the new and improved version (V2) of the Dynam F6F Hellcat. This new version now includes a Tomcat Skylord 40 Amp ESC.
The Grumman F6F Hellcat was a carrier-based fighter aircraft designed to replace the earlier F4F Wildcat in United States Navy (USN) service. The Hellcat competed with the faster Vought F4U Corsair for use as a carrier based fighter. However, the Corsair had significant issues with carrier landings which the Hellcat did not, allowing the Hellcat to become the Navy's dominant fighter in the second part of World War II, a position the Hellcat did not relinquish. The Corsair instead was primarily deployed to great effect in land-based use by the U.S. Marine Corps. We are happy to bring the Dynam F6F to customers bringing yet more warbirds from a manufacturer known for finding that rare blend of economy and quality.
FEATURES:
Tomcat Skylord 40 Amp ESCs with XT60 connector

,
Model officially licensed by Northrop Grumman

Realistic scale features including flaps, WWII Pacific Theatre livery, hand painted pilot figure, gun turrets, and molded panel lines

Powerful

BM3720A-KV500 Brushless Outrunner motor
Scale 3-blade propeller
INCLUDES:
Dynam F6F Hellcat V2 1270mm (50 inch) Wingspan - Receiver Ready

ESC with XT60 connector, servos, motor and electronic retractable landing gear come pre-installed for your convenience

Decal set
REQUIRES:
5 Channel Radio - Select a minimum 5 channel radio
5 Channel Receiver - Select a minimum 5 channel receiver
4 Cell 14.8V 2200 - 3000mAh LiPo Battery with XT60 connector
4 Cell Compatible Battery Charger - Select a minimum 4 cell (4S) charger
PRODUCT SPECIFICATIONS:
| | |
| --- | --- |
| Wingspan | 1270mm / 50in |
| Length | 1054mm / 41in |
| Flying Weight | 1600g / 56.5oz |
| CG (Center of Gravity) | 70-75mm from the leading edge of the wing at the root |
| Power System | BM3720A-KV500 Brushless Outrunner Motor |
| Electronic Speed Control | 40A Brushless with XT60 connector |
| Propeller / EDF | 3-Blade Scale Prop |
| Servos | 4x 9g standard |
| Landing Gear | Retractable |
| Required Battery | 4S 14.8V 2200 - 3000mAh LiPo (required) |
| Required Radio | 5 Channel (required) |
| Ailerons | Yes |
| Elevator | Yes |
| Rudder | Yes |
| Flaps | Yes |
| Lights | Yes |
| Hinge Type | Foam |
| Material | EPO Foam |
| Skill Level | Intermediate |
| Build Time | 2-3 Hours |
| Recommended Environment | Outdoor |