Dynam F4U Corsair 1270mm (50 inch) Wingspan PNP RC Airplane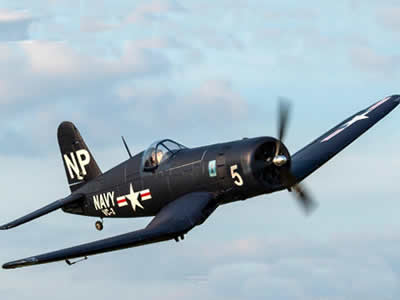 Dynam F4U Corsair 1270mm (50 inch) Wingspan PNP RC Airplane
Special price: [ US$170.00 ]
Dynam F4U Corsair 1270mm (50 inch) Wingspan PNP Rc airplane
1. BM3720A-KV500 Brushless Outrunner Motor were installed inside
2. 5 Channel Radio
3. 5 Channel Receiver
if you want to know wholesale discount price,please contact us by e-mail.
Note:
If your shipment is deliveyellow to a remote area,this charge will be added to your shipping cost.Checking your area is a remote area or is not a remote area on the website:http://remoteareas.dhl.com/jsp/first.jsp
Dynam F4U Corsair 1270mm (50 inch) Wingspan PNP Rc airplane Specifications:
The Chance Vought F4U Corsair was an American fighter aircraft that saw service primarily in World War II and the Korean War. Some Japanese pilots regarded ,Whistling Death,as the most formidable American fighter of World War II, and the U.S. Navy counted an 11:1 kill ratio with the F4U Corsair. It quickly became the most capable carrier-based fighter-bomber of World War II, serving almost exclusively as a fighter-bomber throughout the Korean War and during the French colonial wars in Indochina and Algeria.

Dynam's F4U Corsair PNP is virtually ready for those ambitious sorties! All you need is a 5 channel radio, 5 channel receiver and 4S 14.8V 2200 mAh Li-Po battery and you're ready for a hair-raising, thrill-inducing ride!
FEATURES:
Model officially licensed by Northrop Grumman

Realistic scale features including WWII Navy paint scheme, hand painted pilot figure, gun ports, and molded panel lines

Servoless electronic retractable landing gear

Powerful BM3720A-KV500 Brushless Outrunner motor

LED navigation lights add scale realism and help make the plane more visible during dawn and dusk flights

Scale 3-blade propeller

Optional flaps allow for shorter take offs and slower landings - ideal for when you have a short runway.
INCLUDES:
Dynam F4U Corsair 1270mm (50 inch) Wingspan - Receiver Ready
50A ESC with XT60 connector, servos, motor and electronic retractable landing gear come pre-installed for your convenience
Decal set
REQUIRES:
5 Channel Radio - Select a minimum 5 channel radio
5 Channel Receiver - Select a minimum 5 channel receiver
4 Cell 14.8V 2200 mAh LiPo Battery with XT60 connector
4 Cell Compatible Battery Charger - Select a minimum 4 cell (4S) charger
PRODUCT SPECIFICATIONS:
| | |
| --- | --- |
| Wingspan | 1270mm / 50in |
| Length | 1066mm / 42in |
| Flying Weight | 1650g / 58.2oz |
| CG (Center of Gravity) | 85 - 90mm from the leading edge at the wing root |
| Power System | BM3720A-KV500 Brushless Outrunner Motor |
| Electronic Speed Control | 50A Brushless with XT60 connector |
| Propeller / EDF | 3-Blade Scale Prop |
| Servos | 4x 9g standard |
| Landing Gear | Retractable |
| Required Battery | 4S 14.8V 2200mAh 25C LiPo (required) |
| Required Radio | 5 Channel (required) |
| Ailerons | Yes |
| Elevator | Yes |
| Rudder | Yes |
| Flaps | No |
| Lights | Yes |
| Hinge Type | Foam |
| Material | EPO Foam |
| Skill Level | Intermediate |
| Build Time | 2-3 Hours |
| Recommended Environment | Outdoor |